Description
Pall Filter Elements
Pall Profile A/S Series Filter Elements
Profile A/S Series Filter Elements are constructed of an all polyphenylene sulfide (PPS) filter medium with 316 L stainless steel cores as standard. The elements have an absolute rated downstream section, and a continuously profiled pore size upstream section, which increases service life many-fold. Note the photomicrograph below. The elements are available in a broad range of absolute removal ratings. Refer to Table 1.
The fibers in Profile A/S Series Filter Elements are continuous, for practical purposes. No binder resin or surfactants are used and the fibers are "bonded" by intertwining during the manufacturing process. The filter components meet the specifications for biological tests listed in the current revision of USP for Class VI plastics at 121°C. Because of the inertness of the polyphenylene sulfide medium, Profile A/S elements can be used with many fluids up to 400°F (205°C). Please refer to Table 2 for more details.
The photomicrographs illustrate the construction of Profile A/S elements.
Continuously profiled pore size upstream section.
Absolute rated constant pore downstream section. Note the continuously decreasing fiber diameter in the profiled
upstream section and the constant fiber diameter in the downstream section.
Table 1. Profile A/S Cartridge Grades and Their Characteristics

* Extrapolated value.
The test procedure used for liquid service rating is an adaptation of ANSI T3.10.8.8R1-1990, modified to determine the micron size above which particles are quantitatively removed.
Pressure drop in PSI per GPM water for a single 10″ module. Multiply this value by the required flow to determine the total aqueous pressure drop. Next, for fluids other than water, multiply by viscosity in centipoise. If this calculated pressure drop is excessive, then divide this value by the number of 10″ modules required to reduce this pressure drop to an acceptable level.
The Profile A/S Series filter elements are aligned within Pall Profile II housings by installing the elements onto a tie rod. The elements are then secured in place by a seal nut. When fully engaged, the tie-rod/seal nut assembly forms a knife edge sealing surface embedded into the filter medium at both the top and bottom of the element. The elements are secured in competitive housings by spring engaged sealing surfaces.
Applications
The Profile A/S Series Filter Elements has numerous applications in a broad range of industries that include chemical, petrochemical, pharmaceutical, food and beverage industries.
Typical applications include:
Amine
Hot Water
Glycol
Sulfolane
Condensate
Methylene Chloride
Naphtha
Potassium Hydroxide
Oxo Alcohols
Features and Benefits versus Conventional Molded or String Wound Filters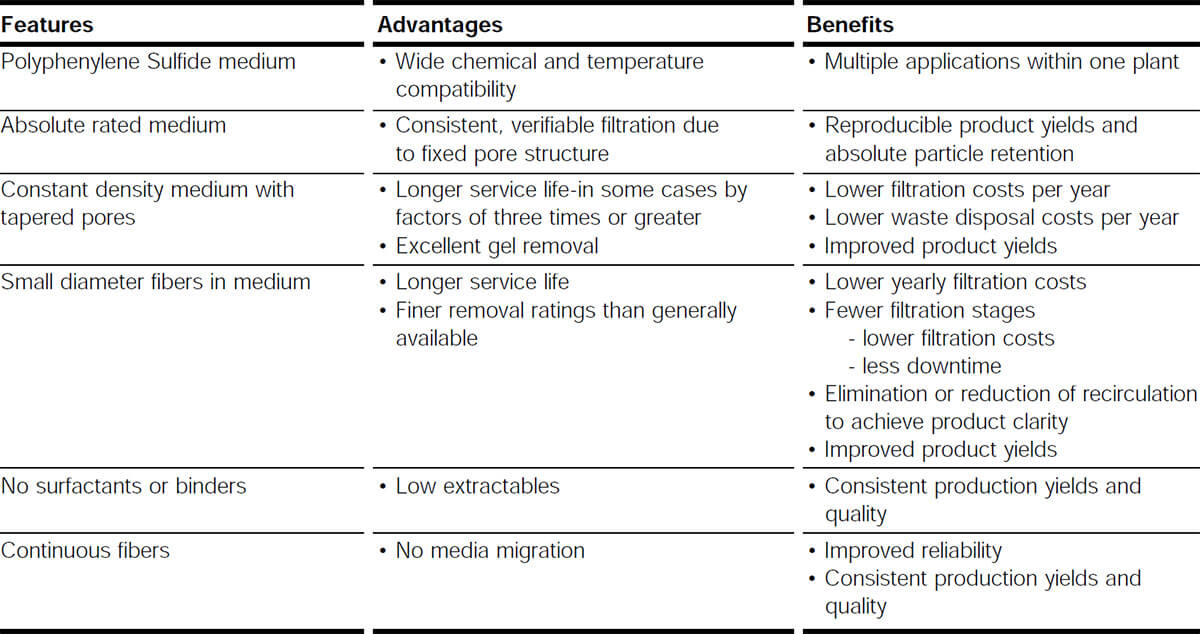 Features and Benefits versus Porous Metal Filters


Table 2. Profile A/S Filters Compatibility Data with Fluids at 200°F (93°C)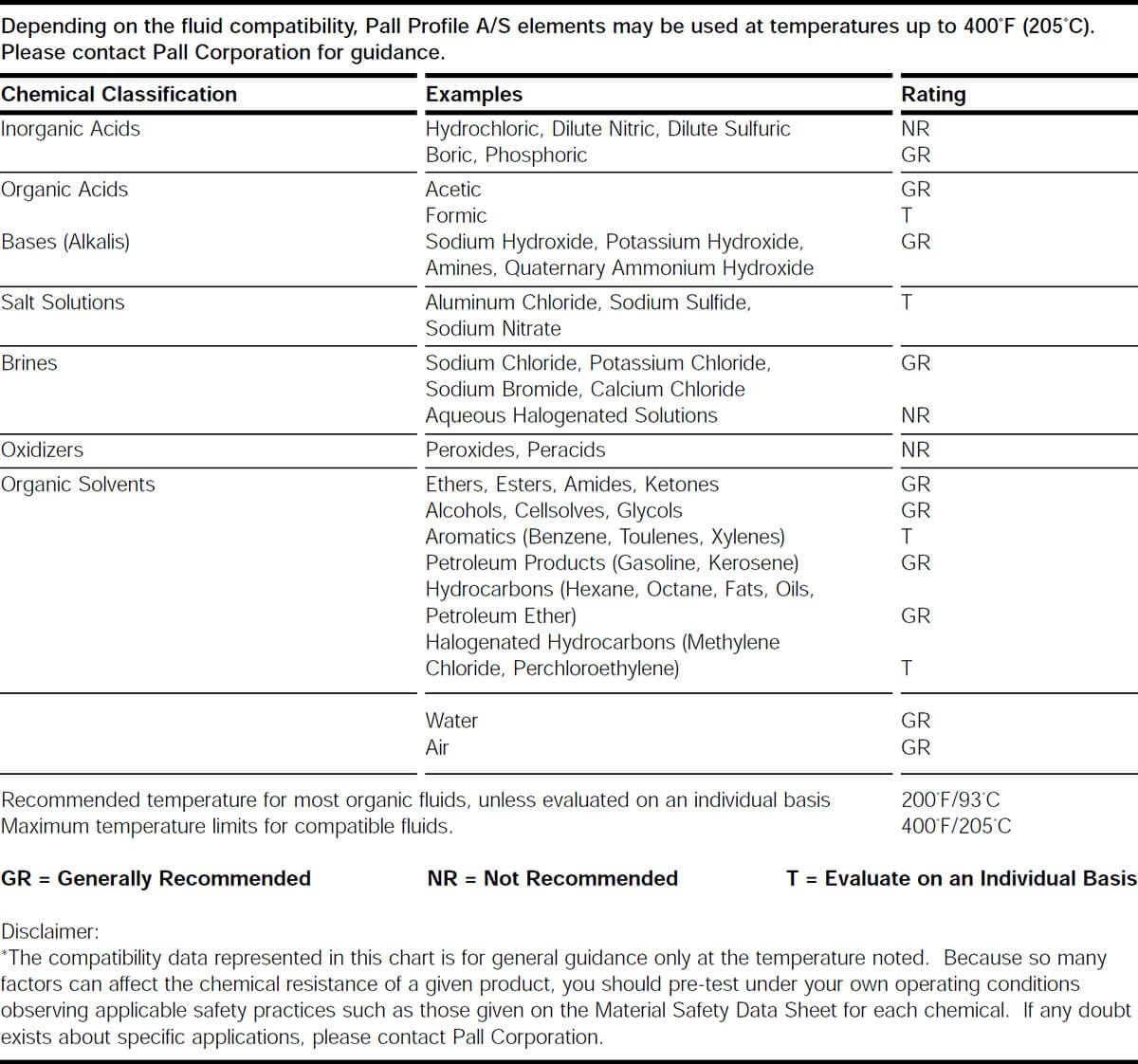 Operating Characteristics
The recommended maximum differential pressure for the standard Profile A/S Series filters is 30 psid / 2 bar up to 400°F/(205°C) and 40 psid / 2.8 bar up to 200°F/(93°C)
Sizes
The Profile A/S Series filter elements are 21⁄2″ O.D. and are available in one-piece 93⁄4″, 10″, 20″, 30″, and 40″ length modules.
Table 3. Standard Configurations of Profile A/S Elements